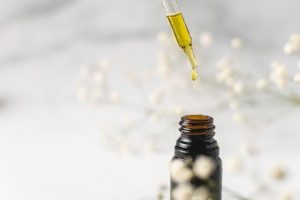 While it's a chemical found in marijuana, CBD does not contain THC – meaning it does not have psychoactive properties and will not get you high. CBD is commonly sold as an oil, but it can also be included in food and drinks, along with coming in the form of an extract, vaporized liquid, or capsule.
CBD Dosage
As of right now, the only CBD product approved by the FDA is called Epidiolex, which is prescribed to treat two forms of epilepsy. Because Epidiolex is FDA approved, it has official dosages (2.5 mg per kilogram of body weight twice daily, and after a week this can increase to 5 mg twice daily).
All other CBD products have not yet been FDA approved, meaning there are no dosage guidelines for them.
The amount you take also depends on the type of CBD product you're consuming, so it's important to talk it over with your doctor to see what amount is right for you and your condition.
CBD Benefits
There are plenty of benefits that come with taking CBD. These benefits may include:
Pain relief
CBD can reduce pain by interacting with the human endocannabinoid system and neurotransmitters. It could affect receptor activity and potentially reduce inflammation.
Mental disorder symptom relief
CBD may have an effect on symptoms of anxiety disorders, PTSD, depression, and insomnia.
Could relieve cancer-related symptoms.
CBD could reduce effects like nausea, vomiting, and pain related to cancer.
Improving heart health.
CBD may have the ability to lower high blood pressure and improve the health of the heart and circulatory system.
It's important to note that studies surrounding these CBD effects are still being carried out. Before getting started on a CBD regimen, consult your healthcare provider.
CBD Risks
Most everything in life comes with risk – CBD included. And even though CBD is typically tolerated well, it is possible for negative side effects to show up. These side effects include:
Dry mouth
Diarrhea
Reduced appetite
Drowsiness
Fatigue
Green Balance Health and Wellness
CBD may also interact with medications you're currently taking, like blood thinners. It could also interact with pain, seizure, and diabetes medications, along with antidepressants. Make sure to discuss any potential interactions with your doctor before trying CBD.